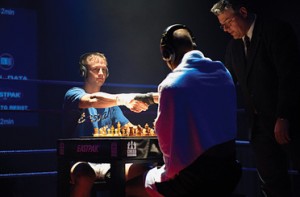 May the Best Move (or Punch) Win
Along Santa Monica's Ocean Front Walk sits a haven for geeks of the game of chess. The International Chess Park, comprising a giant chess set and dozens of regulation-play chess tables, draws people from all walks of life. Including men, who, three days a week, will stand between the 2- to 3-foot-tall chess pieces and physically beat the crap out of each other. Legally.
In the midst of this strange scuffle, a giant bearded man will suddenly blow a whistle, and the two opponents will dash over to a chess table, remove their gloves and sit down to continue a game of chess.
Spectators will stop and stare, some even snapping a few pictures. But what they don't realize is that they are witnessing the birth of a brand-new sport in the U.S. — a unique mashup of boxing and chess.
The bearded man, 6-foot-9 photojournalist Andrew McGregor, runs the Los Angeles Chessboxing Club, the first group in North America sanctioned by the Berlin-based World Chess Boxing Organization (WCBO). He stages competitions, teaches classes at the Chess Park and even competes. He hopes to help spread the sport to the rest of America, promoting brains and brawn by making both boxing and chess more approachable.
But Santa Monica pedestrians don't know any of that. They just keep their distance.
"I don't think they truly get that we're doing both," McGregor says with a chuckle. "I haven't actually been spoken to by anyone."
McGregor's interest in chess boxing began seven years ago when he was in Budapest and spotted a flyer advertising an upcoming bout. The subject was intriguing. He was already a chess geek at school — and unbeatable among his circle of friends — but he just shrugged and walked on. The concept stuck in his head, though, and over the next six months, he would occasionally Google the subject.
Then, in 2008, while McGregor was on assignment in Africa, a chess friend of his e-mailed him a Wikipedia link about chess boxing along with the note, "You could be their Muhammad Ali."
He kept following the sport through various European websites, and after grad school, he tried his hand at boxing. Unfortunately, it was a difficult discipline to grasp, but after former heavyweight champion George Foreman answered McGregor's e-mail and passed along encouragement, McGregor was more motivated than ever.
"I asked around the boxing community [to find out] where the best gym was in L.A. I basically went in there, with all these hard-core fighters around, and said, 'Hi, I want to do chess boxing! One round of boxing, one round of chess.' They were like, 'What?' and pointed me to a trainer. 'He'll train you, whatever.' "
McGregor persisted, though, regularly working out at the gym; his boxing improved, and eventually he was sparring with pros. By this time he was also communicating through Facebook with chess boxers in Europe, and he had launched a website for his new chess-boxing club, which eventually partnered with the WCBO.
Intrigued by the enthusiasm, WCBO representative David Pfeifer flew to Los Angeles in early 2010 and met with McGregor. After the two chatted, McGregor said, "Let's do an event. You're here."
McGregor sent an e-mail out to his friends, the local media picked up on the story, and more than 70 people showed up to watch the L.A. debut of chess boxing. Final outcome? Andrew "the Fightin' Philanthropist" McGregor, the fledgling who became a boxer because of an e-mail from George Foreman, actually checkmated the established German competitor, David "Dr. King Kong" Pfeifer. Now McGregor was thoroughly hooked.
Pfeifer then explained to McGregor more about the origins of chess boxing, and the American finally learned how the sport began. Chess dates back some 1,500 years, and boxing may have emerged as early as 3,000 B.C. But the combination of the two is only seven years old. The sport's roots lie in modern Europe, and they are an unlikely synthesis of Yugoslavian comics, French apocalypse, Dutch performance art and lager-fueled German nightlife.
As a young man growing up in Amsterdam in the late 1980s, Iepe Rubingh was introduced to comics via his father's collection, and he read with great interest the 1992 graphic novel Froid Équateur ("Equator Cold"), by a Yugoslavian artist named Enki Bilal. Within the sci-fi tale of a futuristic Paris steeped in violence, panels depicted a 12-round boxing match, followed by an equally brutal game of chess.
Rubingh eventually moved to Berlin, where he established himself as the artist Iepe, a performance-artist prankster. But he never forgot Bilal's powerful images.
One day in 2002, during a conversation with art friends about their mutual hobby of boxing, it suddenly occurred to Rubingh that one could appropriate Bilal's concept and stage a match that combined both boxing and chess. They all agreed it couldn't be a performance-art stunt. The two sports had to fuse together in such a way that either could decide the outcome.
Rubingh and his friends practiced the concept among themselves and mapped out a general rule book. A match begins with a four-minute round of chess, after which the chess table is removed from the ring, and fighters put on gloves and wale on each other for three minutes. The bout alternates between the two sports for 11 rounds, with one minute of rest between each. A win is determined by either a knockout in the ring or a checkmate on the board.
The Platoon cultural development center in Berlin staged the world's first chess-boxing match in 2003, between Iepe the Joker and his friend, Luis the Lawyer. In addition to the traditional boxing announcer and ring girls, a chess expert provided play-by-play commentary, and the audience followed each chess move on video screens throughout the club.
Rubingh emerged victorious by checkmate, and shortly thereafter, he set about founding the World Chess Boxing Organization. When the WCBO's first-ever world championship was staged a few months later at a sold-out concert hall in Amsterdam, between the same competitors, he won that also, as Luis the Lawyer ran out of time during the final chess round.
Publicity came naturally to Rubingh; as Iepe, he had already engineered massive art pranks that had stopped traffic in the streets of both Berlin and Tokyo. Promoting chess boxing was not going to pose a problem for him.
"Chess boxing is extreme physical stress combined with a huge mental test," he told media at the time. "The adrenaline after boxing inhibits your ability to think, making the chess harder. Few people can still think straight after a right hook to the head. You need to be able to pull off that champion chess move while blood is pouring from your nose."
The WCBO motto, "Fighting is done in the ring and wars are waged on the board," spread throughout Europe's chess and boxing networks, and more bouts soon followed. Chess-boxing clubs quickly began popping up in other countries, from Germany to England to Siberia.
In 2006, an ESPN broadcast about the odd sport caught the eye of David Depto, an engineer living in San Francisco. In the news segment, the WCBO said it was looking for American opponents to fight the German champion.
Depto had been a boxer for years, and he was no slouch at chess. So he sent the WCBO some information, and about six months later, the organization responded, asking for videos of his past fights. They also requested that he play chess with them online. He passed the test, and none other than the sport's founder, Iepe Rubingh, flew out to California to meet him.
"We did some workouts together, ran some wind sprints through a park, played a few rounds of chess," Depto says. "He liked what he saw, and so I got the fight."
Depto was already in top physical shape, so he focused on working with a chess coach on a strategy that would mesh with his aggressive boxing style — and he prepared himself to be the first American to compete in chess boxing, which he had never even seen in person.
"I knew going in that I probably [wasn't] going to be the strongest chess player," he remembers. "But I'm also one of the more experienced fighters. Therefore, I wanted to develop a chess strategy, develop some moves to force the game to slow down. My goal was to go into the ring, get some shots, go for the knockout."
In 2007, Depto flew to Berlin to fight the German champion, a 37-year-old police officer named Frank "Anti Terror" Stoldt. To Depto, it was clear that the Germans knew how to stage a bout. The ring sat in the middle of an underground nightclub, surrounded by alcohol, loud music and 1,200 fans screaming for bloodshed.
"It was a lot of fun," Depto recalls. "When I got into the ring, and they were playing the national anthem, it was overwhelming, representing the U.S. in this new sport."
But the American wasn't able to fully relax and land his punches. Then, Stoldt checkmated him in the seventh round.
Depto returned to Germany the next year and fought another bout in Cologne, against Swedish contender Konrad Rikardson. This time, Depto was more prepared. He won by a knockout punch in the second round.
"I got the feeling they were a little disappointed," he says. "It went one round of chess, one round of boxing, and it was over."
Depto was unable to compete in the championship that year, and he has been plagued with injuries ever since. But he's had time to reflect on his career in chess boxing.
"I don't think there's been a ton of strategy yet," he admits. "But because of the alternating rounds, there's more opportunity for physical rest than just boxing. So the fighters are going to be much more recovered, fresh to go every round. Very few guys win with one-punch power. Most people win on the chessboard."
McGregor agrees that the sport has not fully developed yet, but he says it's incredibly addictive. The adrenaline rush of getting smacked in the face, then sitting down and trying to focus on the chess while trembling and sweating and dripping blood, creates an entirely new experience.
"I always want to win on the chessboard, because it's more [impressive]," he says, laughing. "If you can orchestrate a checkmate when somebody's trying to kill you, that's pretty sick!"
Although the sport is new, says McGregor, regional differences have already become apparent. European cultures are often more fluent than Americans in chess, and Russians are particularly good at it. Fighters will wear headphones during the chess round to block out the crowd noise. Many competitors are professional boxers, and they refuse to use headgear in order to keep the experience more purely pugilistic.
In establishing a club in Los Angeles, McGregor realized he'd have to adapt the sport for U.S. sensibilities. It needed to have a modicum of safety. "For the American stuff, that's not going to work," he says. "People are not going to sign on to that."
So he instituted amateur rules, with headgear strongly encouraged. After his club's two bouts this year, McGregor says, the number of inquiries increased. "Lots of interest from men and women [in their 30s and] in grad school," he says.
Getting in shape and having fun is one thing. But does this hybrid sport have any future as a legitimate revenue stream? Depto thinks that's the missing link right now.
"For this thing to grow, there has to be sponsorship," he says. "They can sell tickets to cover the events, but there's not much money yet. Other guys who think the idea is novel are starting it in their own gyms. That's been their growth model so far."
And indeed, compared with boxing or chess, the absence of money in chess boxing is palpable. Matches display a refreshing lack of logos in the ring and around the venue. According to Depto, who traveled to Germany twice for fights, winning purses were "several hundred euros," and boxers' travel expenses were paid. But nobody appears to be chess boxing professionally as a primary source of income.
"There is no chess boxer — so far — who makes a living out of the sport," says the WCBO's David Pfeifer. "Most of us are working in different jobs. The WCBO does offer cash to the fighters who participate in championships. [But] it's more of a thank-you for their hard work and preparation."
For others who just love the sport itself, like McGregor, hurling a ton of marketing at chess boxing would turn it into another dodgeball league — all logo and no heart. To him, the grassroots origins of chess boxing and the physical and mental acuity it takes to compete are what make the sport special.
"I want to do it because it's awesome — people can benefit from it," he says. "People should learn how to defend themselves, but this is self-defense in a healthy fashion."
He adds, "I think it's going to blow up. I think it will become like snowboarding over the next 10 years."
#  #  #
This article originally appeared in American Way magazine.