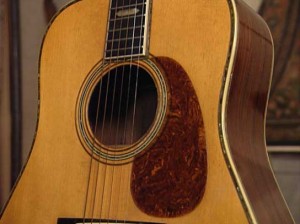 A history of the world's most famous acoustic guitar, including an interview with company president Chris Martin IV, and a visit to the factory in Nazareth, Pennsylvania.
I pulled into Nazareth
was feelin' 'bout half-past dead
I just need some place
Where I can lay my head
– "The Weight," The Band
In early 2008, an acoustic guitar belonging to the author of these lyrics actually pulled into Nazareth, Pennsylvania to the C.F. Martin guitar factory. Robbie Robertson had needed some work done on his 1927 Martin 000-45 nylon string model. Martin employees examined the ultra-rare instrument in amazement, which was built 80 years ago in Nazareth, and retained the original ivory pegs.
Workers were also reminded of the apocryphal story they'd learned only a few years before, about the creating of this song. As the tale goes, four decades ago, while working on music for The Band's first album, Music From Big Pink, Robertson was stuck with writer's block.
The first line of the song wasn't coming to mind. He turned his guitar over and noticed the manufacturer's label stamped inside the hole. It read, "C.F. Martin, Nazareth, PA." He thought why not, and incorporated the town Nazareth into the opening lyric. Supposedly the rest of the song then fell into place, completing what is now a classic tune that we've all heard at some point in our lives. (Even if you don't understand what the rest of the words mean, at least now you know the origin of "Nazareth.")
Such stories circulate constantly through the history of the C.F. Martin company. The world's most recognizable name in acoustic guitars, Martin this year celebrates its 175th anniversary. For a musician, a Martin represents the ultimate in quality, the best that money can buy. Each model is still handmade at the factory in Pennsylvania. Vintage Martin guitars can sell for hundreds of thousands of dollars.
Nearly every recording you've ever heard features a Martin, from country and folk, to rock, pop, classical, and Hawaiian music. You name the artist, they've played a Martin: Eric Clapton, Johnny Cash, Beck, Neil Young, John Mayer, Joan Baez, Bob Dylan, Willie Nelson, Steve Earle, Elvis Presley, Sting, Kurt Cobain, Paul Simon, Jimmie Rodgers, Kingston Trio, Richie Sambora, Kenny Wayne Shepherd, Dixie Chicks, Lucinda Williams, Hank Williams, Woody Guthrie, Israel Kamakawiwo'ole. It's almost scary how one guitar has so thoroughly saturated music's landscape.
Besides making the world's finest guitars, C.F. Martin is notable for several other reasons. Most importantly, its success and longevity come despite America's rampant outsourcing of labor. In a business climate where CEOs eagerly move manufacturing overseas, virtually all Martin guitars are still made in the United States. With a lifetime guarantee for the original owner.
The 850 employees enjoy profit-sharing, and many have been there for decades. "Coffee Break" guitars hang from walls in the factory, so workers can play something on their downtime.
To lessen the drain on natural resources, Martin also offers guitars made from sustainable woods and non-wood materials. And here's another anomaly in American business – the company has been run by a member of the same family for six generations.
But this wasn't always a rosy success story. In the early 1980s, C.F. Martin nearly made its last guitar.
"We had peaked out in the 70s, somewhere in the range of about 22,000 units," says Martin's current CEO, Chris Martin IV, a friendly, sandy-haired man in his fifties.
"In 1983 we were making 3,000 units. We were on the brink of just barely being able to pay the rent. We talked to these people and they said, 'Yeah, we'll buy your business. We'll fire the board, we'll fire upper management. And we'll play you 30 cents on the dollar.'"
It would have been an ignoble end to a long legacy. Chris Martin's great-great-great grandfather, Christian Martin Jr., had founded the company in 1833. He learned the craft of making guitars in Vienna, then moved to New York City and opened a music shop on Hudson Street. He sold instruments, and hand-crafted his own guitars in the back room.
By 1838 he moved his operation to Nazareth, a small German-speaking religious community in rural Pennsylvania. Using his original tools from Europe, Martin continued to produce more guitars. The earliest models were numbered with the style of guitar, followed by the price. A 3-17, for instance, was a Model 3, selling for 17 dollars.
More family members joined the company, and they introduced new models. Mandolins for the growing population of Italian immigrants. Ukuleles for the burgeoning craze of Hawaiian music. New sizes for orchestras and entertainers like the yodeling Jimmie Rodgers, country music's first superstar.
During the Depression, Martin debuted a new oversized dreadnought model, the D-45, created specifically for "Singing Cowboy" Gene Autry. Rockabilly and rock and roll stars like Elvis and Ricky Nelson popularized the name further, and the 1960s boom in folk music took sales of Martin guitars through the roof. Sales peaked during the 1970s era of country rock, with artists like Jim Croce and Crosby, Stills, and Nash.
At the time, this reputation and legacy was totally lost on Chris Martin IV, a young man working at a guitar shop in Hollywood. He had studied to be a marine biologist, had no talent for music, and little interest in the family business. He was also lousy at guitar sales.
"This was the 1970s. Westwood Music, on Westwood Boulevard," Martin recalls. "The owner, Fred Walecki, was very astute in terms of getting Martins in the hands of professionals in the southern California music scene. I think Fred thought I knew a lot more about my family business than I did."
"I was useless," admits Martin. "They'd ask me the history, why they should buy this model. They expected me to know everything. I just felt like such an idiot. That's when I was like, if I'm gonna do this, I kind of have to start back at the beginning."
Martin quit college, came back to work at the factory in Nazareth, and ended up studying management at Boston University. As he observed the family business, he noticed things were on a downhill slide. His father Frank Martin had begun importing inferior guitars from Asia, and acquired several unsuccessful side projects, very un-Martin-like products such as banjos, drums, and electric guitars.
"I get the impression that all of my other ancestors but my father really got into guitar building," Martin shrugs. "And the aspect of, how does it work? What makes it work? And my father, he wasn't a bad businessman. But the thing that he was involved with, it could have been anything. Golf clubs. Had it been golf clubs, he might have been more excited about it."
Martin's father had also purchased expensive manufacturing machines, which didn't work. They sat idle on the factory floor, as a monument of incompetence. Frank finally retired, leaving the company in a shambles.
"My father had his own personal demons," Martin continues. "He was an alcoholic."
It wasn't just Frank's unwise expansion projects. A drastic change in sound was sweeping through the music industry. Nobody was interested in acoustic guitars at the time. Upon rejoining the company, the young Martin felt the change ripple through the factory.
"After The Eagles, business tanked. Thanks to disco and the Yamaha DX-7, all the keyboards, you didn't need a guitar player anymore. We were losing money. The banks called the loans."
Astonishingly, the board of directors brought back Martin's grandfather, C.F. Martin III, to run the company. Although in his nineties, the man did know something about the guitar business. He was able to stop the financial bleeding, but soon passed away, leaving C.F. Martin IV as chairman of a respected brand on the verge of collapse.
Martin never aspired to be in charge, but there was nobody else in the family who was interested. He knew the only way the company could survive was if he reached out to the employees. The people who actually built the best acoustic guitars in the world.
"I said to everybody, 'Look, if it's 3,000 guitars, let's make 3,000 really, really  good guitars." That resonated with the people that wanted to hear that, but weren't hearing it."
The company started profit-sharing, and set about focusing on just doing what they did best. And then in the mid-1980s, an extraordinary series of circumstances basically knocked on the door of C.F. Martin guitars.
Keyboards were becoming passe in popular music, replaced by acoustic acts like Lyle Lovett and Suzanne Vega. At the same time, a new generation of Boomers were coming into wealth, and could finally afford the Martin guitar they'd always coveted. Acoustic guitars were cool again.
In 1989, MTV debuted its new Unplugged series, and viewers watched artists like Eric Clapton and Nirvana playing stripped-down acoustic versions of well-known songs.
"Many, many of the artists were playing Martins," says Martin. "The irony is, most of them were plugged in. But it was very discreet. Just don't look at the cord coming out of the bottom of the guitar!"
Sales soared as a result, and demand was so high for Martin guitars, the company was forced to double the size of its factory. More models were introduced, including a popular "Backpacker" travel guitar, which even took a trip aboard the space shuttle. "Coffee Break" guitars were hung in the factory, so employees could play something on their downtime.
From 1990 to 2003, Martin sold 500,000 guitars, more than in the previous 150 years of the company. Artist series models were designed in partnership with well-known musicians, from Stephen Stills to Johnny Cash, Jimmy Buffet, and George Jones. Martin started offering public tours of the factory in Nazareth, and in 2006 the company opened a guitar museum, filled with rare guitars and historical artifacts.
Sitting in his office filled with guitars and memorabilia, Chris Martin IV enthusiastically describes one museum display in particular – the Martin D-45. Originally built for Gene Autry in 1933, the D-45 was larger than most, and adorned with the fanciest accoutrements then available. Only 91 D-45s were made before production stopped in 1942. The mythology surrounding this instrument boggles the mind. Collectors refer to it as the "Holy Grail." An original pre-war D-45 sells on eBay for up to $1 million.
Martin desperately wanted a D-45 to showcase in the new museum. Two vintage dealers approached him with D-45s. A Martin employee was dispatched to inspect them. The first wouldn't do, it had been repaired, and sounded inferior.
"Another dealer called up and said, "I have your guitar. A D-45, for your museum,' Martin recalls. "I said, 'How do you know?' He said, 'I know.'"
The dealer brought the guitar to Nazareth, and Martin called a meeting of employees in his office to see the D-45. The price was $270,000. It was a lot of money.
"One fellow I work with, he said, 'Can I try that?' He picked it up, and curled up in a fetal position, and played it. And he looked up at me and I knew, that is our guitar."
Chris Martin smiles. "It's possibly the best sounding guitar I've ever heard. It was the top of the line, and it's been used, not abused, for 65 years. It came into its own."
A bit later, on a tour of the museum, Martin's manager of artist relations, Dick Boak, pulls out a key and unlocks a glass wall in front of the D-45. He grabs the guitar, fishes a pick from a pocket and hands them both to me. The wood is beautiful, old and strong. The Holy Grail. My god.
I drop to one knee, cradling the D-45, and am so nervous I can't do more than play a few chords. The sound is amazingly loud, but with a soft and warm tone. It's like playing a quarter-million-dollar stick of butter. People wandering through the museum stop and watch, as if to say, "Who's this guy? Why does he get to play the D-45? He doesn't seem to be very good." I quickly hand it back, afraid I'm going to drop it.
Outside the museum, a tour of children swarms the main lobby, gawking at the displays. Guitars hang on the wall for anyone to play, and two guys sit on stools, jamming on an old Johnny Cash tune. I'll bet they would love to play the D-45, too.
#  #  #
This article appeared in different form in American Way magazine