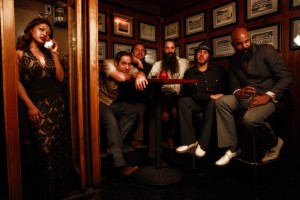 The amazing true story of how a tourist bumming around Cambodia in the mid-1990s, inadvertently launched the careers of many musicians, including the Cambodian/American hybrid Dengue Fever.
Sometime in the '90s, Los Angeles musician Ethan Holtzman and a friend were cruising around Siem Reap, Cambodia. His buddy got bitten by a mosquito and contracted dengue fever, so they hopped on a truck to a hospital. As they bounced along a bumpy dirt road, Ethan heard this strange music playing on the truck's radio: an evocative blend of '60s psychedelia, surf, and British Invasion, influenced by Western rock and roll which filtered into the country during the Vietnam War.
Intrigued by the music, Ethan collected some cassettes and returned to L.A. He met with his brother Zac, and realized that by total coincidence, both had been listening to the same songs. Neither understood the Khmer-language lyrics. But they learned that the people who made this music, Cambodian pop stars like Pan Ron, Ros Serey Sothea, and Sin Sisamouth, were most likely dead. During the Khmer Rouge genocide of the 1970s, artists and musicians were singled out for execution.
"We started talking about what a shame it was that all these really great, cool artists were killed while they were just doing what they wanted to do," Zac recalls. "We thought it was a good idea to pick up the ball where they left off."
The Holtzman brothers began putting together a band to resurrect Cambodian rock and roll. They chose the name Dengue Fever as a tongue-in-cheek ode to Ethan's truck ride. The two hung out in Long Beach nightclubs populated by Cambodian refugees, and after auditions, found vocalist Chhom Nimol, a recent transplant and onetime Cambodian pop star, who had come from a prominent musical family.
Things clicked immediately despite the language differences, and Dengue has since released three CDs, mixing traditional covers among originals. The band adds its own tinges of jazz and sci-fi/spaghetti-western texture, beefing up the arrangements with Ethan's nuanced Farfisa organ and Dave Ralicke's killer horn parts, all fronted by Nimol's stage presence and amazing vocal fluidity. Their atmospheric sound proves a natural fit for many soundtracks, including Matt Dillon's City of Ghosts, Jim Jarmusch's Broken Flowers, and episodes of Weeds.
Dengue Fever has spent the last few years touring the world, and in 2005 they traveled back to Cambodia, a trip captured in the new DVD documentary, Sleepwalking Through the Mekong. Cambodians were wildly curious about what had happened to Nimol, who had left for the U.S. some years before.
"Everyone was really happy that she didn't come back all totally Hollywood and Americanized," says Zac. "She came back with her old traditional music, with us backing her up. Everyone was happy about that. It made them feel proud about their culture."
Dengue is often asked whether they play world music, or indie rock, and the short answer is both. No longer defined by Putamayo albums played in restaurants, world/international music is now being pushed in all directions, from the pioneering Ry Cooder, to the multicultural Manu Chao and the Amazonian-flavored Chicha Libre, who often tours with Dengue Fever.
"It's cool to see this indie rock scene being more open to all the different ethnicities and cultures around the world," says Zac Holtzman. "And it's cool for the world music scene to not only be Guatamalan baggy pants and steel drums."
# # #
Cambodian Rocks
Many Americans with their ear to the underground in the mid-90s discovered a mysterious vinyl record called Cambodian Rocks. There were no liner notes or any information about any of the songs. But some of the music was vaguely recognizable, peculiar go-go organ and fuzz-guitar versions of "Gloria," "Hip Hug-Her" by Booker T and the MGs, and something that sounded an awful lot like "Black Magic Woman." In actuality, these were popular Cambodian hit songs of the 1960s and 70s, performed by the likes of pop singers Pan Ron and Ros Serey Sothea, and singer-songwriter Sinn Sisamouth.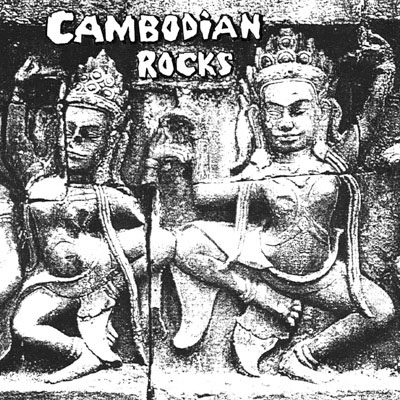 The origins of the record are as simple as Dengue Fever's beginnings. In 1994 an American named Paul Wheeler accompanied a friend on a trip to Cambodia. While hanging around Siem Reap, he kept hearing amazing rock music played in the restaurants.
"I hired a guy on motorcycle to take me to a place where I could buy some Cambodian music," remembers Wheeler. "He drove me to a market where there was a guy set up and selling cassette tapes. I had him play me various stuff for an hour or two, and ended up buying about six tapes from him."
Wheeler compiled a cassette of his favorite songs, and upon returning to the U.S., he played the tape for a friend who owned Parallel World, a small record label in New York City.
"He loved it as much as I did, and suggested putting out some of it on his record label. It was released first as a limited pressing record of 1,000. That sold out, and he got so much good feedback he released a longer version as a CD."
Hipsters who heard Cambodian Rocks went crazy over it, including Zac Holtzman. The record prompted several sequels, and dozens of musicians started playing their own versions of blue-eyed Cambodian rock and roll.
# # #
This story and sidebar first appeared in American Way magazine.